Below we've tried to answer some of the common questions customers ask:
BUYING POSTERS:
Q: Do you buy posters?
A: Yes, we buy original film posters all the time and always consider purchasing collections of any size, more so if they are older titles that we do not have in our own archived collection, which we solely use for public display. Condition is often not a factor as if a poster is old enough or deemed to be in 'relic' condition, we will undertake careful restoration and conservation to ensure that it is preserved for future generations. Please contact us to discuss further.
APPRAISALS & VALUATIONS:
Q: Do you appraise poster collections for insurance purposes?
A: Yes, we offer written appraisals. We cannot provide appraisals from photographs alone as to confirm the authenticity/condition and replacement value of a poster we must see it with our own eyes. Shipping of posters must be covered both ways by the client. In cases where it is not feasible to ship your poster for an appraisal (e.g., the size of the piece or the collection is extensive) we can carry out 'on-site' appraisals, this option is provided on a case-by-case basis. Please contact us for more information.
AUTHENTICITY:
Q: Are all of your posters original? Where do you get them from?
A: Every item in our inventory is guaranteed to be authentic. We do not deal in reprints or reproductions of any kind. Our posters, lobby cards, stills and autographs come from fellow collectors, old theatres, film archives and estate sales.
C.O.A:
Q: Can I get a Certificate of Authenticity with my purchase?
A: All of our posters are guaranteed to be authentic. Therefore, our invoices act as a certificate of authenticity, should one be needed for insurance purposes. In all honesty such certificates carry little weight in the collecting world as many of the unscrupulous well-known sellers of reproductions (sold as original) also offer such certificates to help authenticate their forgeries.
PHOTOGRAPHS:
Q: What are the black squares shown in the corners of some of your posters?
A: We used to use magnets to hold our posters flat whilst they're being photographed, these do not damage the posters in any way whatsoever.
FRAMING:
Q: Do you frame posters?
A: We don't frame posters ourselves; we leave that to the professionals. However, be aware that there are many ways to frame a poster, some framers will try to convince you to mount your poster to a backing board using permanent solvent-based glues or tape (also referred to a dry-mounting), or even wish to trim your poster down. DO NOT let them do this as it will permanently destroy the value of your investment. I recommend you seek the services of a framer who specializes in conservation framing and one who uses acid free archival materials, also be sure to request UV light blocking glass/acrylic to guard against sun damage.
If you are wishing to purchase a poster purely for display, I would recommend considering a linen backed version, this process would have ensured that the poster has been flattened out and is conservation mounted to linen using water-based adhesives. If you are having a linen backed poster mounted do not let your framer trim the linen back up to the edge of the poster! linen backing is intended to provide a 'buffer' around the posters edge to prevent damage. Therefore, the framer should leave at least a 10 – 15mm buffer in place.
For those customers based in Christchurch we have links to two recommended framers at the base of our homepage. The City Art Depot for One Sheet or large pieces and framed for daybills or smaller.
HOLDING ITEMS:
Q: Can I reserve or place a poster on hold?
A: Yes, we can place a poster on hold for 7 days. After that time, we must open it back up for general sale.
LINEN BACKING:
Q: What is linen backing?
A: Linen backing is regarded as the only accepted method of mounting/conserving posters. It allows fold lines to be flattened out, imperfections repaired, marks/stains to be removed and large 'multi sheet' posters to be joined together prior to display/framing.
The process starts with assessing the condition of the poster itself and gauging whether it would benefit from washing, deacidification or bleaching, these may sound aggressive, however these treatments are carried out with the greatest of care and help repair the damage caused by dirt, acid and the elements. Once these treatments are complete, we then move onto the construction of a timber stretch frame large enough to fit the size of the poster in question. A 12oz or 15oz cotton canvas is then stretched onto this frame. Once fastened, a Japanese Masa paper is then pasted to the canvas using a wheat-based adhesive containing an alkali buffer (to provide a suitable acid free mounting surface), this will usually take 3 – 4 days to dry. As it dries it shrinks onto the canvas backing and forms a tight wrinkle free surface.
Once dry, the poster itself is then carefully mounted onto the Japanese paper using the same wheat-based adhesive, which is soluble in water, and therefore fully reversible. Like the Japanese paper, as the poster dries it stretches slightly and in doing so it flattens out the fold lines on the poster, this stage usually takes another 3 – 4 days.
Below is my 'At the Earth's Core' UK Quad, prior to treatment this poster suffered from a number of faults, from an addition of a ratings sticker and stamp to sharp fold lines, dirt/stains and fold wear. As you can see the appearance of this piece was greatly improved, with the fold lines practically disappearing, ratings sticker removal and much of the dirt now gone.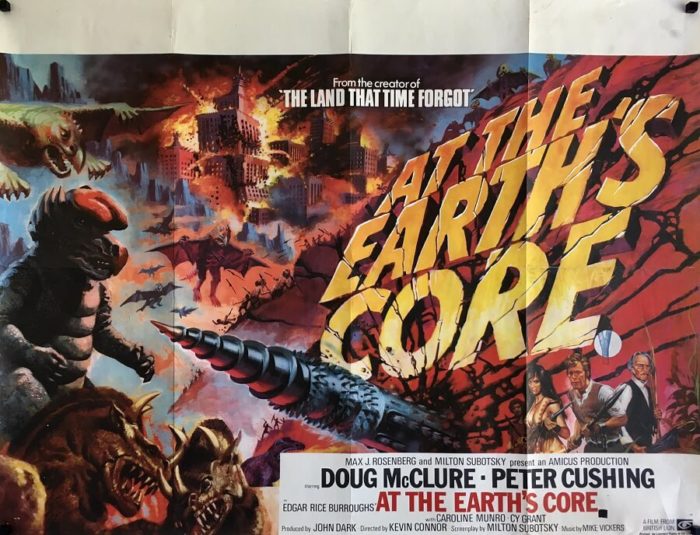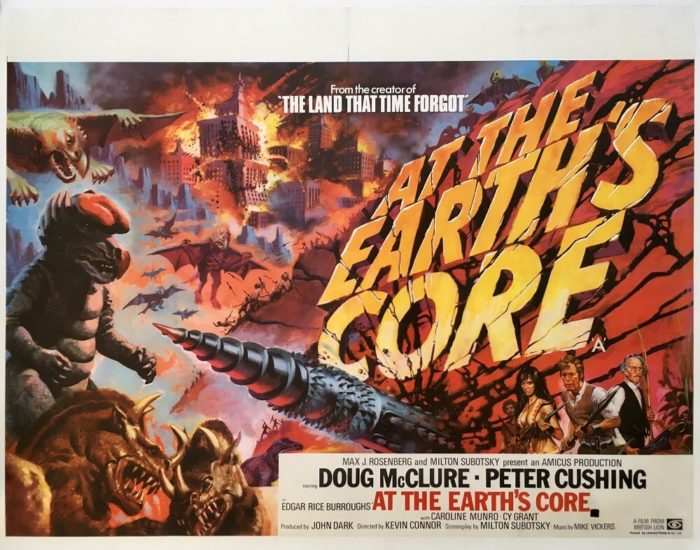 Once dry, the fold lines and minor imperfections can also be worked on using watercolour pencils/paints (again, totally reversible). See the below example of my First Blood poster fold lines before and after being touched up.


Once complete the linen backed poster is then cut from the stretch frame and trimmed to leave about an inch of clearance around the edge of the poster. If required, your framer will trim this down again (ensure he leaves a protective buffer of at least half and inch) prior to framing.
LINEN BACKING OR RESTORATION:
Q: Can you linen back a poster for me?
A: No, we do not offer this service ourselves, however after using many different backers over the years, including more recently a locally based New Zealand restorer, we can only recommend the skills of a select few, these being (in no particular order): Studio C based in Vista, California USA and Studio M based in Melbourne, Australia. All of these backers do wonderful work, with each website showing you a sample of their restoration results and price guides.
Be warned – In the past we have had valuable posters either severely damaged/ruined or returned with shoddy work by other far less skilled backers. This is unacceptable and these 'cheaper' backers will usually sing their own praises and try to convince you to take this damage as 'common practice' or 'the norm', I assure you it is not! It's usually a result of them rushing your work to receive faster payment, working in an unclean environment (where foreign matter such as hairs etc. become trapped between the poster and the backing material), working with substandard materials, or worse still attempting procedures that they are not experienced/competent in.
NEW RELEASES:
Q: Do you stock every new release?
A: Yes, although not listed on the site (we try to only list pre 90's material), we do have a great selection of popular new/current titles, whether they be Star Wars, Bond, Marvel/DC or children's/animation. Please contact us if you have a particular poster that you are looking for as we usually have them in stock or can easily track them down.
CONSIGNMENTS:
Q: Do you accept posters to sell on consignment?
A: It depends. We generally prefer to buy posters outright. If you have vintage posters valued at $500 or more that you wish to consign, please contact us and we can discuss terms. We will also need to physically see all the items in question to confirm their authenticity and condition.
RETURNS:
Q: Can I return a poster if I'm not satisfied?
A: Absolutely. We offer a money-back guarantee (less shipping charges) for every item we sell providing that it is returned to us in the same condition as we shipped it to you. Please notify us within 48 hours of receipt that you would like to return an item. We ask that you package your return with the same materials and care with which it was sent.
SHIPPING:
Q: When will I receive my order?
A: Most orders are shipped within 48 hours (unless the item is being consigned from an overseas collection), however delivery time will inevitably depend upon your location.
OVERSEAS CUSTOMERS:
Q: Do you ship overseas?
A: Yes, the checkout will automatically calculate the cost of International Courier shipping once you enter your full shipping address. Any local taxes or customs fees are the responsibility of the customer, and not will not be included in the purchase or shipping fee.
UNCLAIMED DELIVERIES
Q: What if I fail to claim a delivery and it is returned to The Film Poster Gallery?
A: If an order is returned to us that the local postal provider was unable to deliver (incorrect shipping information/no one at home/package remained unclaimed after delivery attempted etc.), the Film Poster Gallery will not be held responsible for the repeat shipping fees, this is solely the responsibility of the recipient.